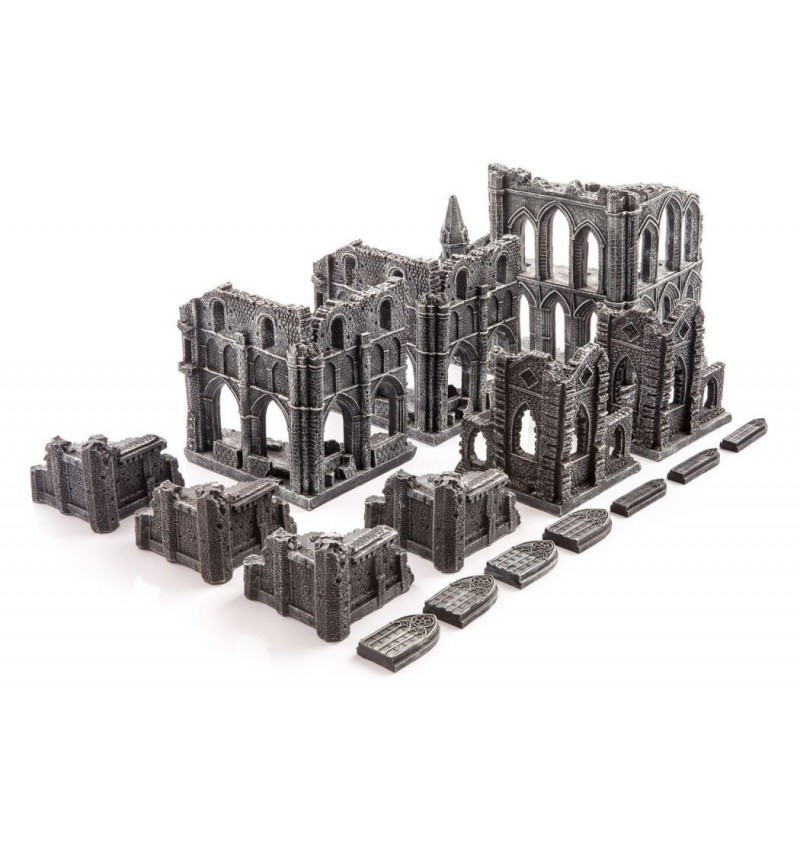  
Set de ruinas góticas
Painted and assembled.
Resin material.
Ready for play straight out of the box.
Terrain scale is suitable for Warhammer 40K, Age Of Sigmar, Kill Team, Necromunda, Star Wars: Legion, X-Wing and other board games and tabletop war games.

- very solid
- highly detailed
CONTENIDO:

- 9 pieces of ruins
- 1x centre piece Ruin A (LxWxH) in cm 30x20x25 in inches 11.8x7.9x9.9
- 2x large piece of Ruin B (LxWxH) in cm 20x17x20 in inches 7.9x6.7x7.9
- 2x mid-size piece of Ruin C (LxWxH) in cm 15x15x18 in inches 6x6x7
- 4x small-size piece of Ruin D (LxWxH) in cm 12x12x10 in inches 4.7x4.7x4
- 5x wall piece. All 12cm long, highest point is 6cm, all could be connected to create a continuous line. In inches: 4.7 x 2.4
- window fillers to make optional LOS blocking versions of ruin A and ruin B (that would be 3 pieces of window fillers for Ruin A and 2 pieces for windows on Ruin B). They snap-fit into floor level windows.